PERIODE INDIENNE ~ INDIAN PERIOD
1982 
~ 
1991
acryliques ~ acrylics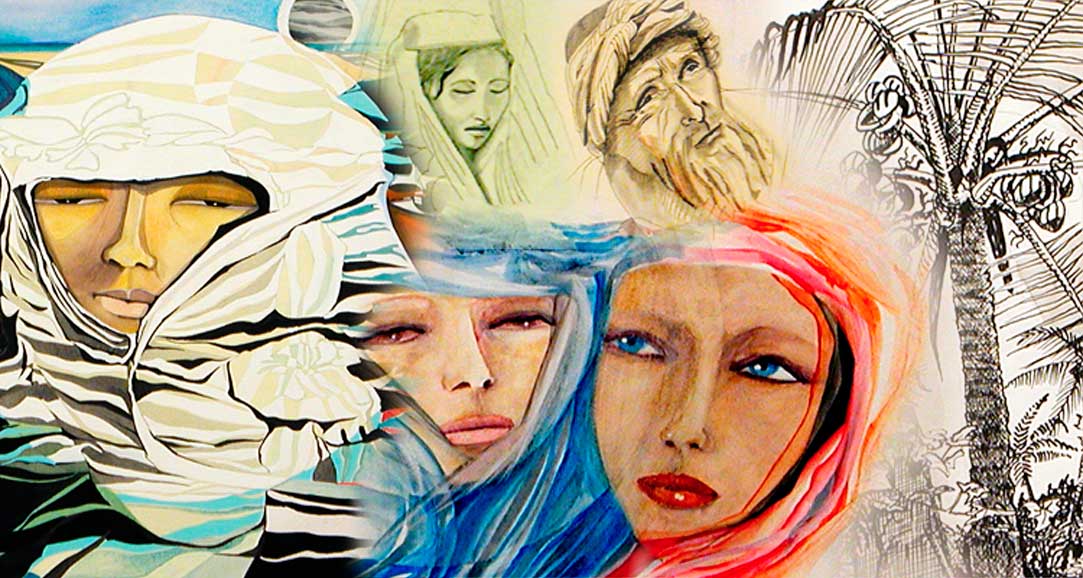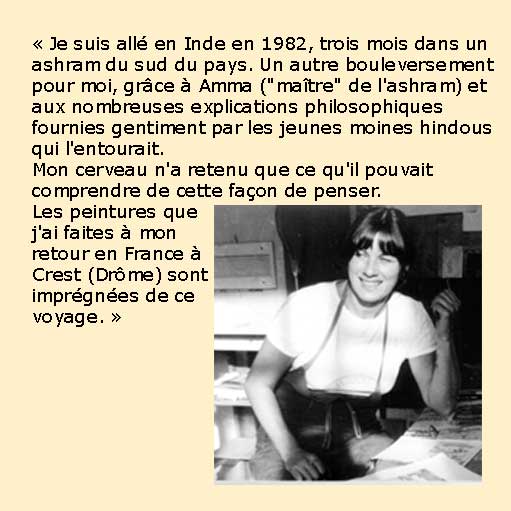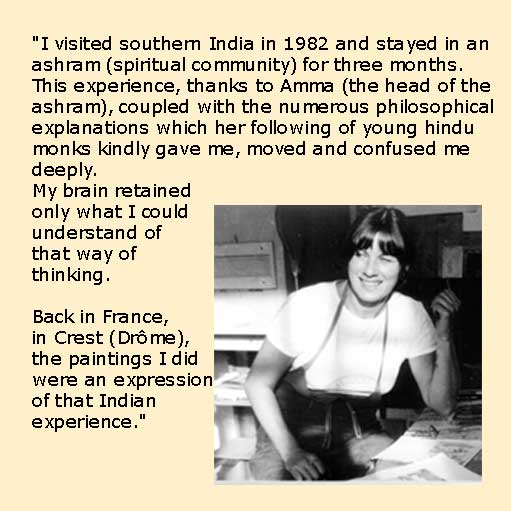 1982 – 1992
La période indienne se distingue par ses acryliques :
« De retour de l'Inde, je me suis mise à employer la peinture acrylique, qui était un matériau très récent que les Japonais utilisaient déjà avec une grande dextérité dans leurs peintures hyper-réalistes.
Elle avait le pouvoir d'être utilisée comme de la peinture à l'huile, c'est-à-dire en épaisseur, ou comme de l'aquarelle en la délayant avec plus d'eau. L'avantage pour moi, c'est que je pouvais superposer les fonds mats et colorés avec des fils de couleurs aussi fins qu'une toile d'araignée sans que les couleurs se mélangent.
En effet, cette peinture était irrémédiablement sèche en deux ou trois secondes.»
1982 – 1992
Acrylics are the highlight of the Indian period
"Back from India, I started to paint with acrylic. It was a very recent material, which the Japanese were already using very skilfully in their hyper-realistic paintings.
Acrylic could be used either like oil paint, in thick strokes, or like watercolour, diluted with water. For me the advantage was that I could superimpose matt and coloured backgrounds with thin coloured threads, as subtle as the thread of a spider's web without the colours mixing.
In fact, in two or three seconds this paint would dry irremediably."
ACCES A LA GALERIE ~ PROCEED TO THE GALLERY ►