ESQUISSES ~ SKETCHES
1950 
~ 
2000
esquisses, dessins ~ sketches, drawings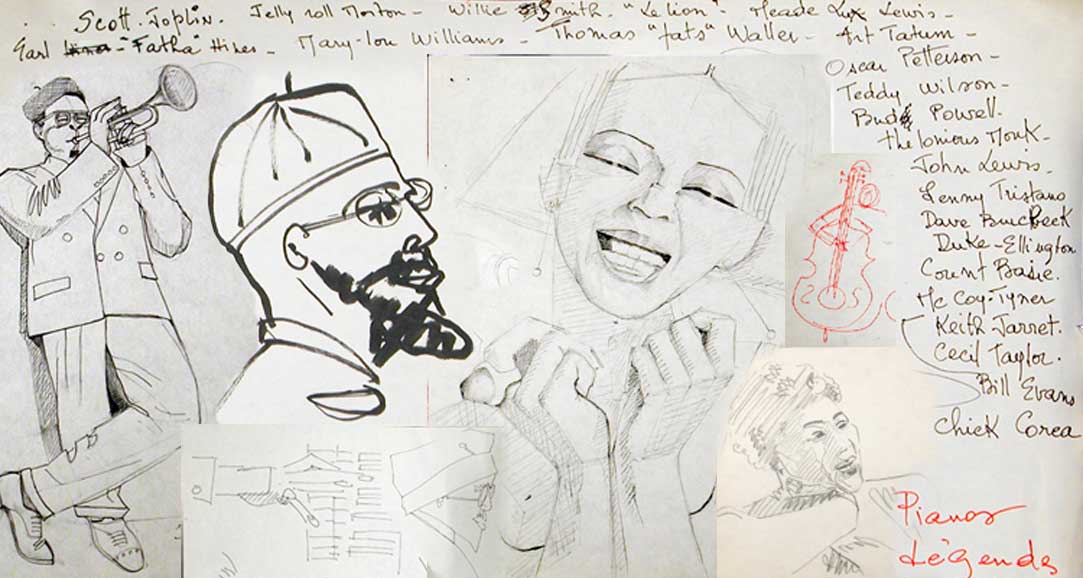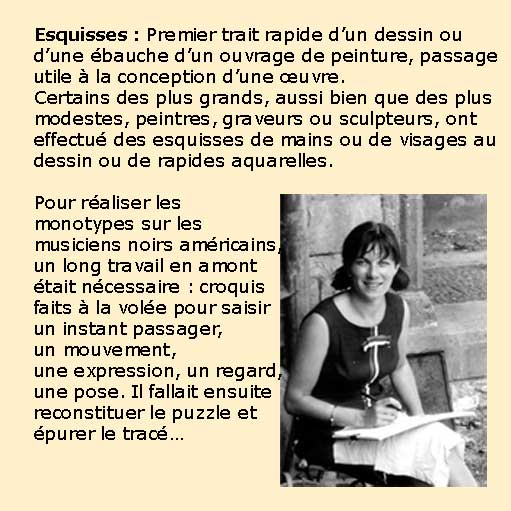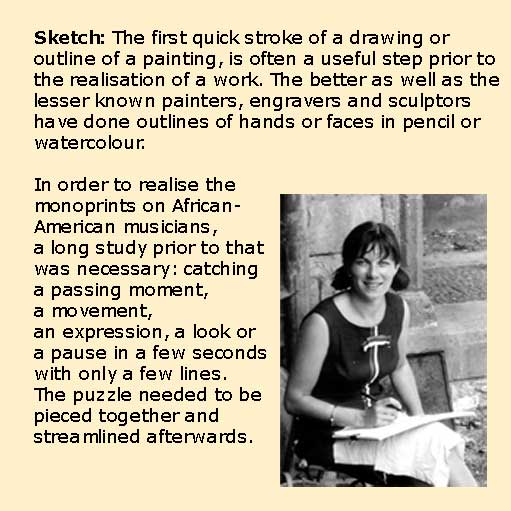 1950 – 2000
Esquisses et dessins de préparation :
« En 1986, 30 ans après mes voyages en Afrique, à New York, et plus particulièrement à Harlem, je voulais m'imprégner de la culture des noirs-américains. Je lisais tout ce que je pouvais sur ce sujet, me promenais dans Harlem et faisais des croquis en regardant la chaîne Black Entertainment TV qui diffusait des concerts, des émissions sur des musiciens et chanteurs ainsi que des films, le tout réalisé et joué par des noirs. J'essayais de faire des croquis malgré la vitesse de défilement. La tête pleine d'images et mes croquis sous le bras, je pouvais construire ce qui serait "ma" monotype.
Arrivée en Afrique de l'ouest en 1956, j'ai été ébloui par les visages et les costumes des femmes. Peules, Mossis, Toucouleurs, vendeuses de fruits et légumes au marché, les femmes autochtones posaient avec beaucoup de naturel et de grâce. Les dessiner était un premier pas vers cette culture dont j'avais tout à apprendre. »
1950 – 2000
Sketches and drawings
"In 1986 in Harlem – New York City, 30 years after my travels in Africa, I sought to absorb African-American culture. I was reading whatever I could on the subject, was taking walks in Harlem and was drawing sketches looking at the Black Entertainment TV channel. I was watching concerts, broadcasts of musicians and singers as well as films, all realised and featured by black Americans. I tried to draw sketches notwithstanding the speed of images. My head full of pictures and with the sketches under my arm, I could start constructing what would become "my" monoprints.
Having landed in western Africa in 1956, I was stunned by the faces and dresses of women. Whether of the Peules, Mossis or Toucouleurs tribes, the indigenous women selling fruits and vegetables at the market place were posing with amazing natural grace. To make drawings of them was a first step towards a culture of which I had everything to learn."
ACCES A LA GALERIE ~ PROCEED TO THE GALLERY ►